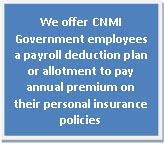 We accept major credit cards






Traders Insurance Company is one of the leading providers in the Commonwealth of the Northern Mariana Islands of non-life insurance and surety products to a wide variety of businesses, organizations, and individuals.
The company's expertise, utmost dedication and concern inspire confidence in our customers. Our highly professional and experienced staff enables customers to obtain the right insurance or surety coverage at the best possible terms. Also, claims are processed promptly and efficiently by a seasoned claims professional.
More about Traders Insurance…

For business insurance solutions, Traders Insurance
Company insurance products help companies manage
risks and exposures in today's business environment.
Traders Insurance Company team of professionals
design competent insurance plan to meet the specific
needs of clients whether they are individuals, corporations, organizations or government bodies. For personal needs, find out what types of insurance we have to secure your personal assets. No matter how careful you are, you need to have the right insurance.




We made all our forms available online as added convenience for our clients. The forms are stored in the standard Adobe PDF format that can be filled out and printed or submitted online.

View the Forms page…